Try our indicators free of charge for 3 days just by registering. No credit card required.
Improve your trading

with our tools
We develop and offer unique indicators/tools for quantitative* Bitcoin trading. We detect the deficiencies and manipulations of the market through our algorithms to use them in our favor.
* Quantitative trading is a trading system that uses mathematical and statistical models to trade markets.
Our main indicator: Liquidation Pools (Liquidation Heatmap)
First Principle
Absolute truths in trading
The market is a

zero sum

competition, when one wins another loses.
The crypto market is unregulated and therefore subject to

manipulation

.
The crypto market is

poorly liquid

.

90%

of traders lose money.
With these premises we developed the Liquidation Pools, an indicator that allows us to anticipate manipulations, knowing the areas where most traders will lose. Using that information, we develop our strategies.
Build your own strategies
Unique tools

in the market
We have created our own tools to develop unique strategies that allow us to differentiate ourselves in the market.
Liquidation Pools
(Liquidation Heatmap)
The colored areas that can be seen in the graph are the Liquidation Pools, also known as Liquidation Heatmap, where the liquidity within the market is represented with a heat map, which work as a magnet for the price. The Liquidation Pools are price zones, which indicate through a mathematical algorithm, where the over-leveraged traders could lose. Developed on different exchanges for: BTC/USDT, ETH/USDT, ADA/USDT, AVAX/USDT, BNB/USDT, DOGE/USDT, DOT/USDT, MATIC/USDT, TRX/USDT, TRX/USDT, XRP/USDT.
Anticipate the trend

Algorithm that shows where the price would be most likely to go, forced by high frequency bots.

Know the bounce zones

When the price moves towards the Pools, it liquidates the positions and ends up bouncing.

Optimize your operations

Knowing this allows us to buy at minimum prices and sell at maximum prices.

Reduce your losses

We know where most traders are going to lose, therefore we can identify a better area to place our stop losses.

Intuitive graphics

TradingView's like interface.

Improve your vision of the market

They are like X-Rays in the graph that allows to identify the market manipulation.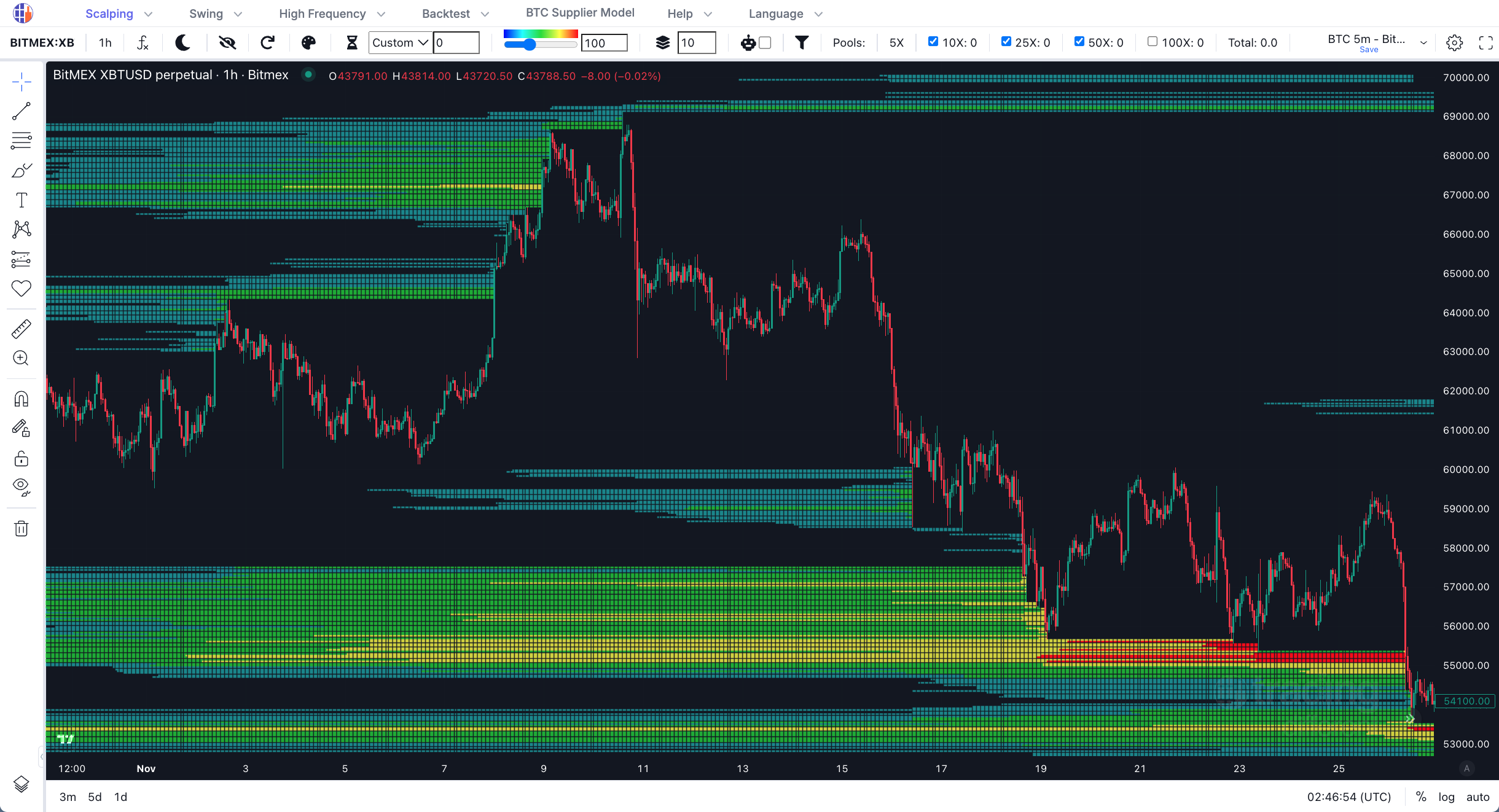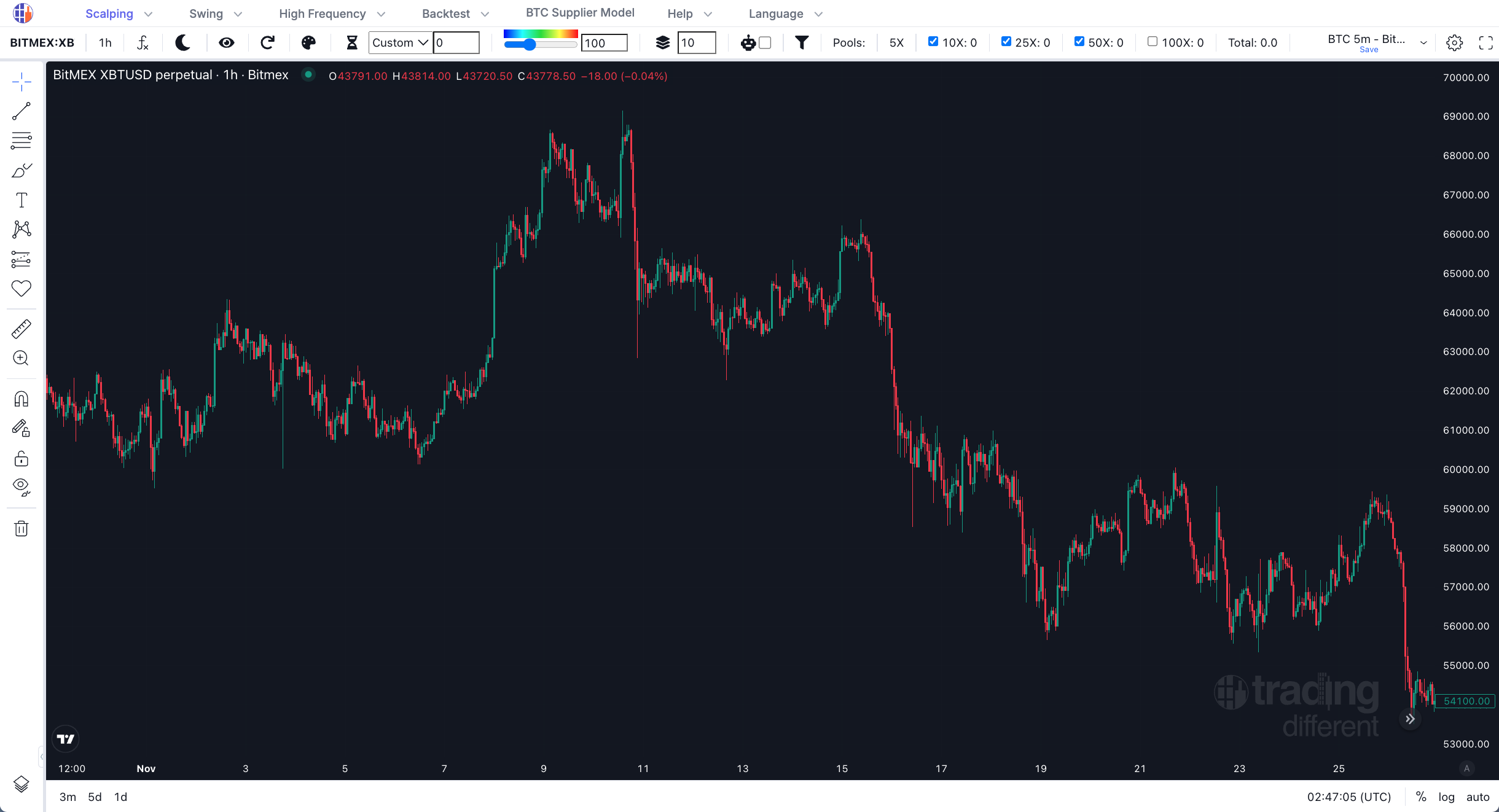 Liquidity indicators like Bookmap, Atas, TensorCharts, TradingLite, etc., may look similar at first glance, but the Liquidation Pools are very different. In these indicators the Order Book is shown, that is, the liquidity outside the market, in the Liquidation Pools we show the liquidity inside the market.

Our algorithm calculates, with different probabilities, where the Stop Loss of over-leveraged traders will be liquidated or executed. We know that 90% of those traders will lose and based on that we develop our strategies.
High Frequency Chart
Reading of how the high frequency bots of the big operators are operating. Supported symbols: BTC/USDT (BitMEX, Binance, Deribit, Bybit) and ETH/USDT (Binance).
1 second interval

Reading of the buy/sell orders that enter the market every millisecond, summarized in a graph of seconds.

High frequency indicator

Indicator that accumulates and summarizes the direction in which the high-frequency bots are operating. It can be configured according to market circumstances.

Trading technique

We seek to operate in the same way that high frequency bots do.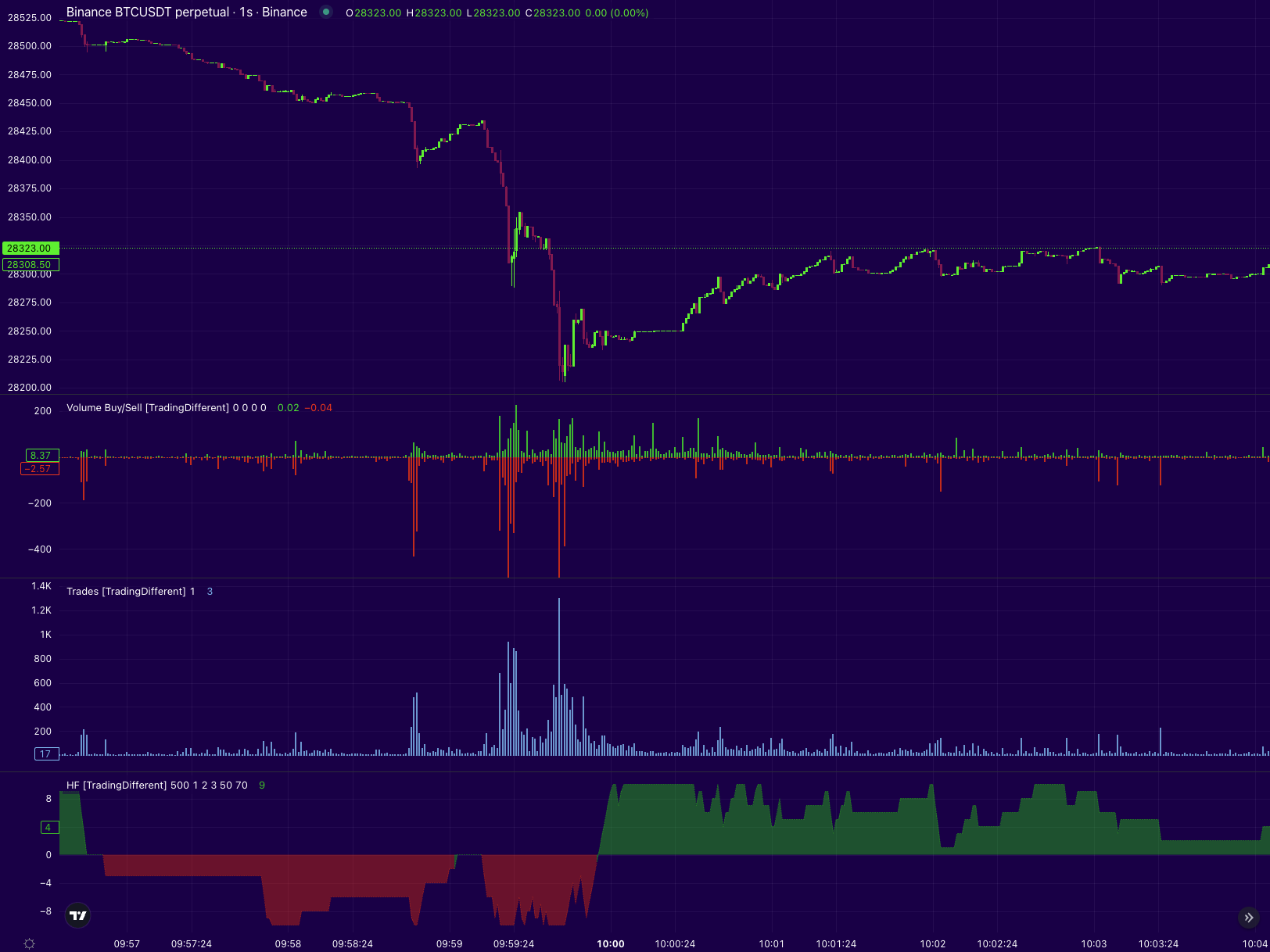 TrenDiff: Trend indicator
Indicator that marks the main trend of the market and helps us to operate in the same direction, seeking the Liquidation Pools as Take Profit targets.
Long and Short Trends

Indicates Long and Short trends for extended movements.

Targets

It is complemented by the Liquidation Pools, which mark the Take Profit zones.

TrenDiff Strategy

Backtested strategy with more than 70% effectiveness.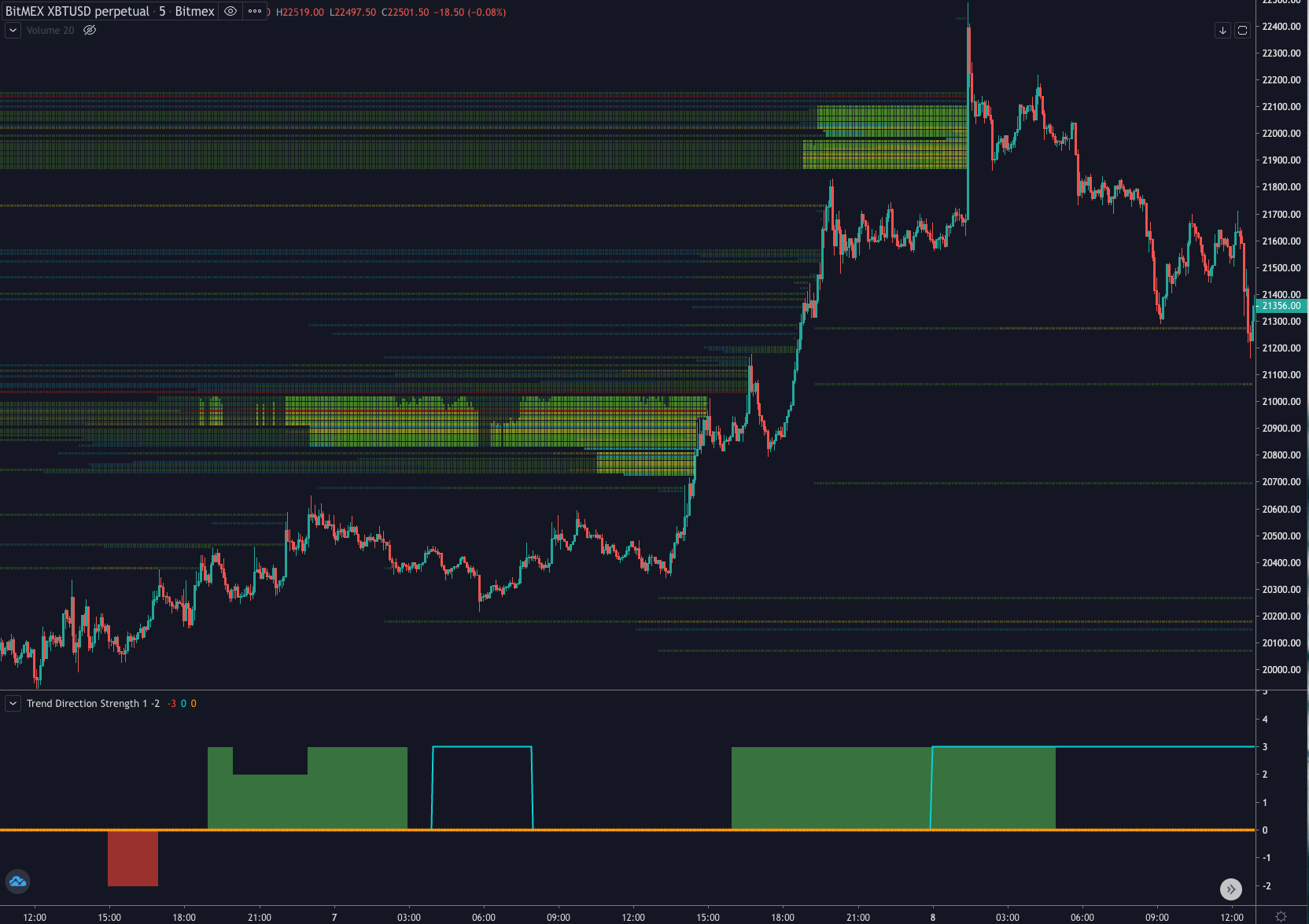 Historical Chart
Bitcoin price history since July 2018, with all our indicators to be able to detect patterns, build strategies and backtest them.
Multi timeframe

Behavior of the price in multi timeframes: 5m, 15m, 1h y 4h.

All our indicators

Open Interest, Volumen Buy/Sell, Liquidations, TrendDiff, etc.

Search calendar

It allows you to select dates and browse the Bitcoin history.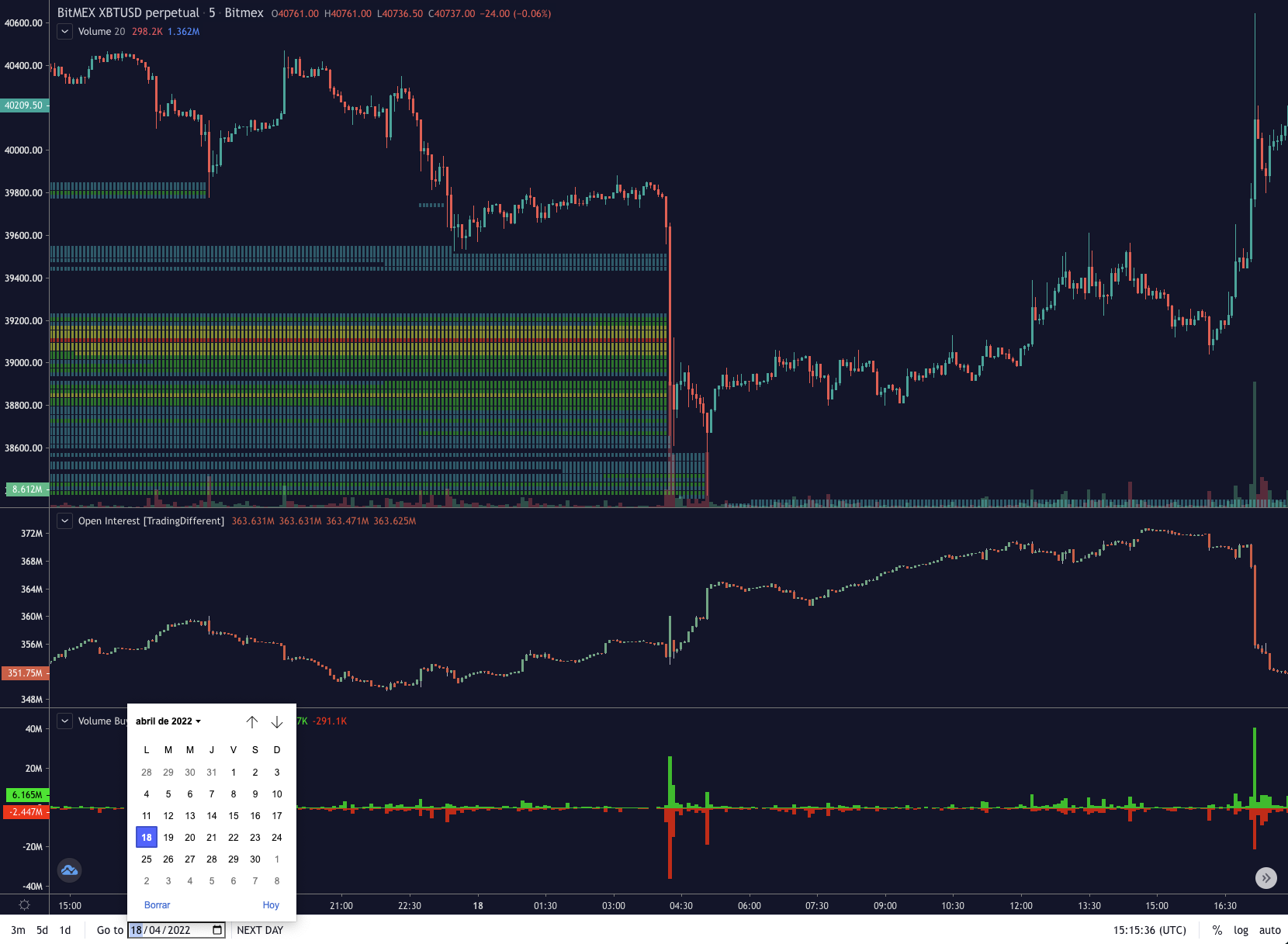 Volume Profile
Volume grouped by price levels.
Point of Control (POC)

The price level with the highest traded volume.

Profile High/Low

The highest/lowest reached price level during the specified time period.

Value Area (VA)

The range of price levels in which a specified percentage of all volume was traded during the time period.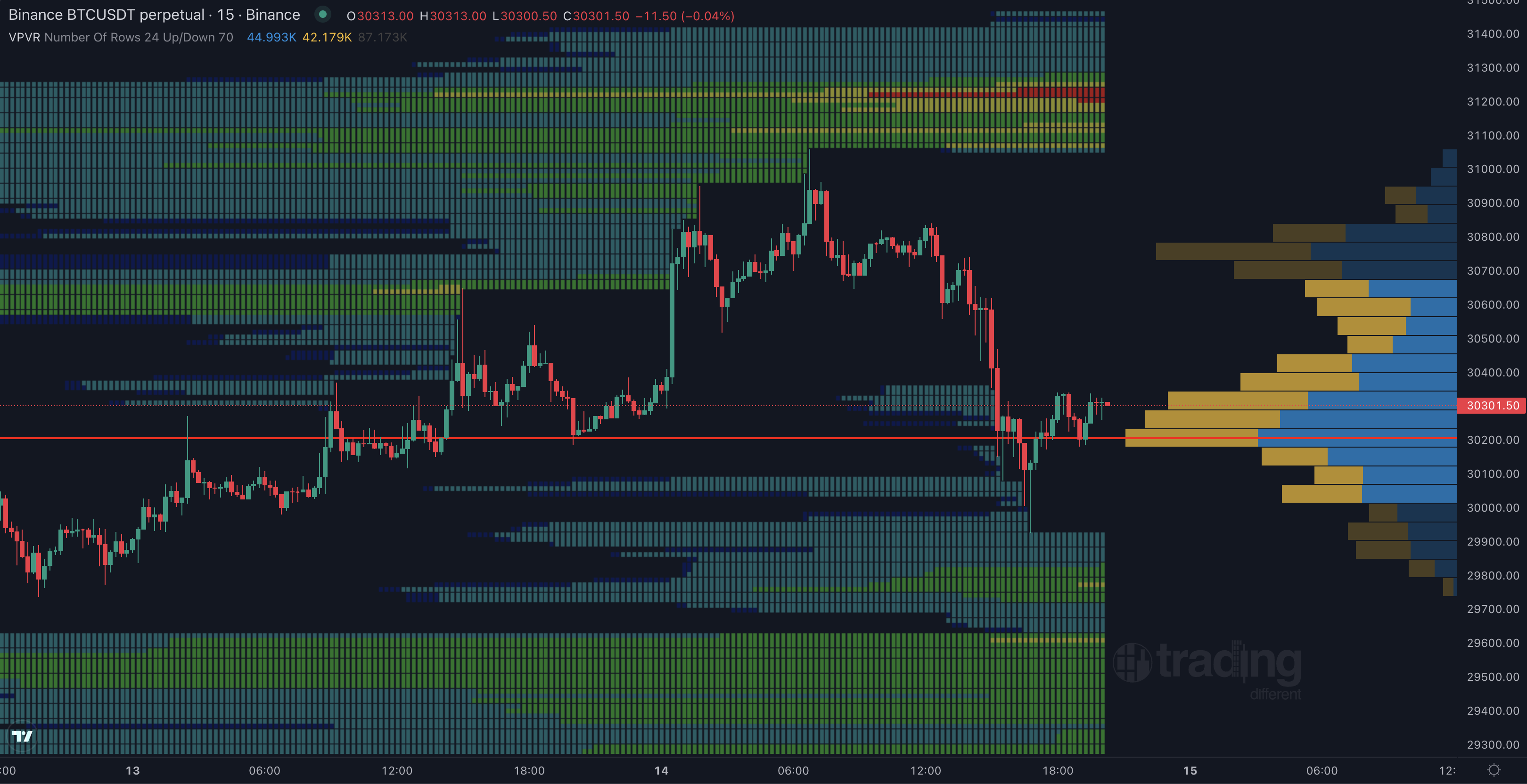 More Indicators
Discriminated volume of buy and sale

Buy & Sell market orders

Real-time liquidations

Liquidations reported by exchanges, with margin in Bitcoin and stablecoins.

Open Interest

Open interest on Bitcoin futures, in real time.

TradingView Indicators

All indicators available in TradingView.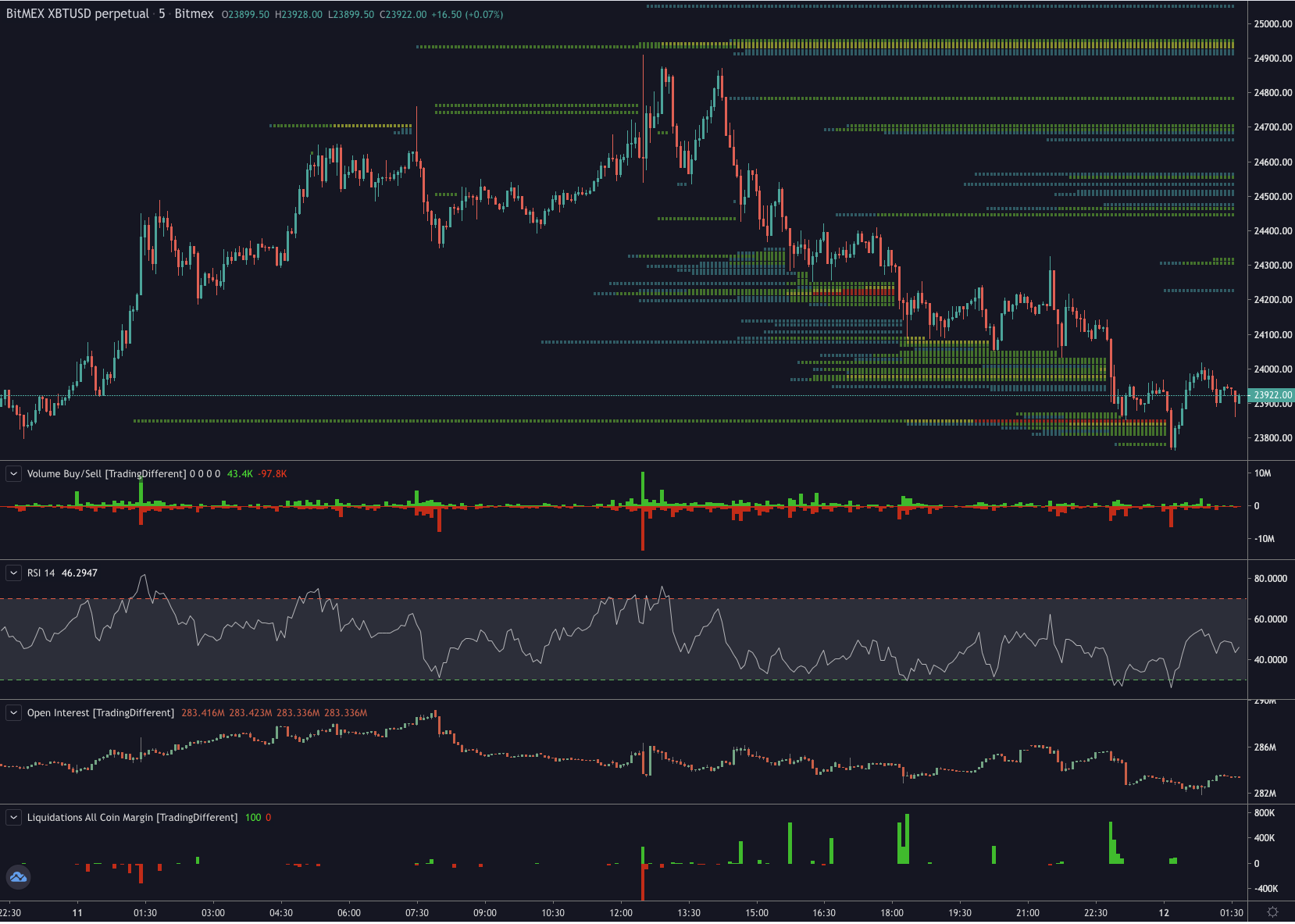 BTC Supplier Model
Total mining cost of 1 BTC with highlighted market stages and mining profit zones.
Mining Cost

Total cost to produce 1 BTC, considering electricity, equipment amortization, maintenance, refrigeration, taxes, rents, administration, etc.

Mining Profit

Miners profit-taking zones for the different market stages.

Important events

Key milestones throughout BTC history right on the chart.

Multi timeframe

Price behavior in 1D and 1W timeframes.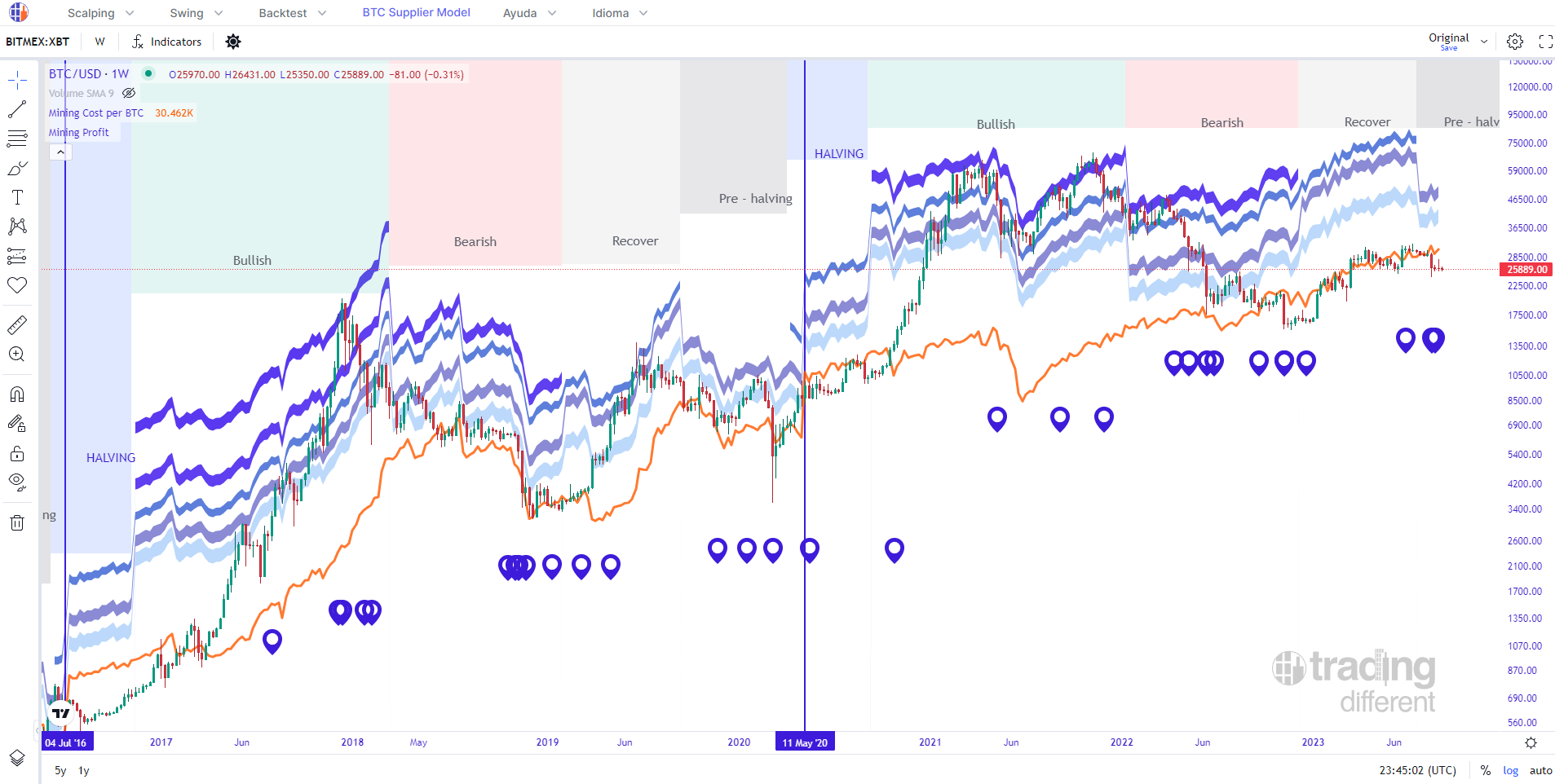 Create your own quantitative strategies
Transform your operations into a quantitative trading system, complementing the indicators that you frequently use with the Liquidation Pools.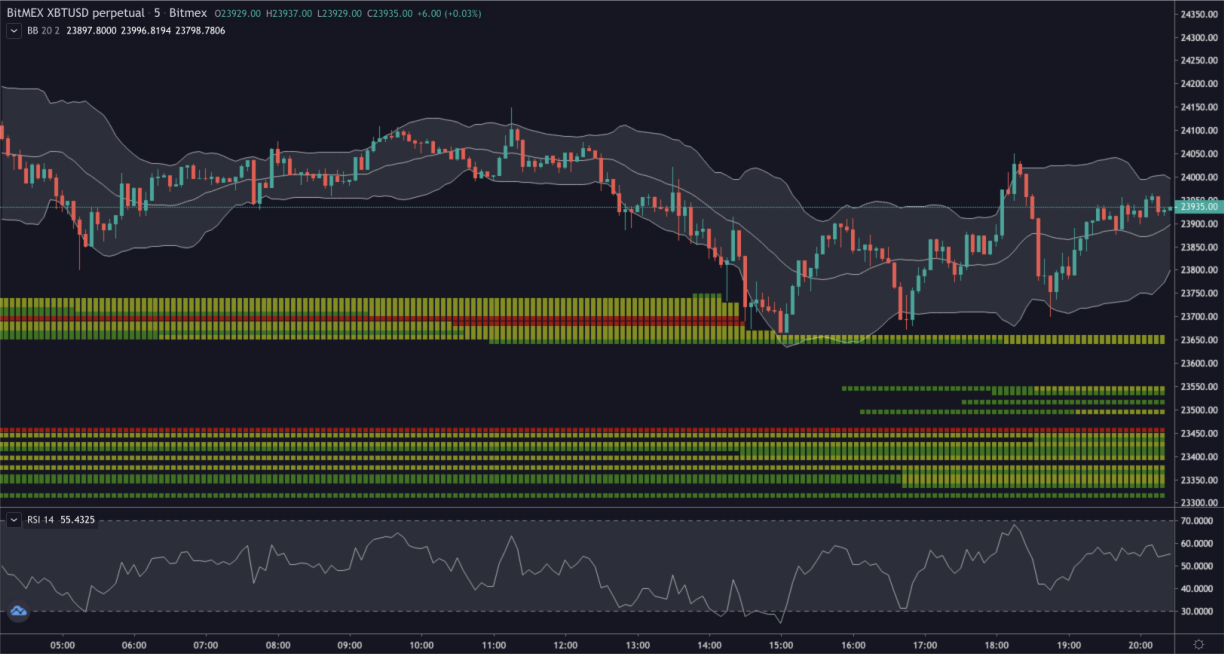 Liquidation Pools + RSI + BB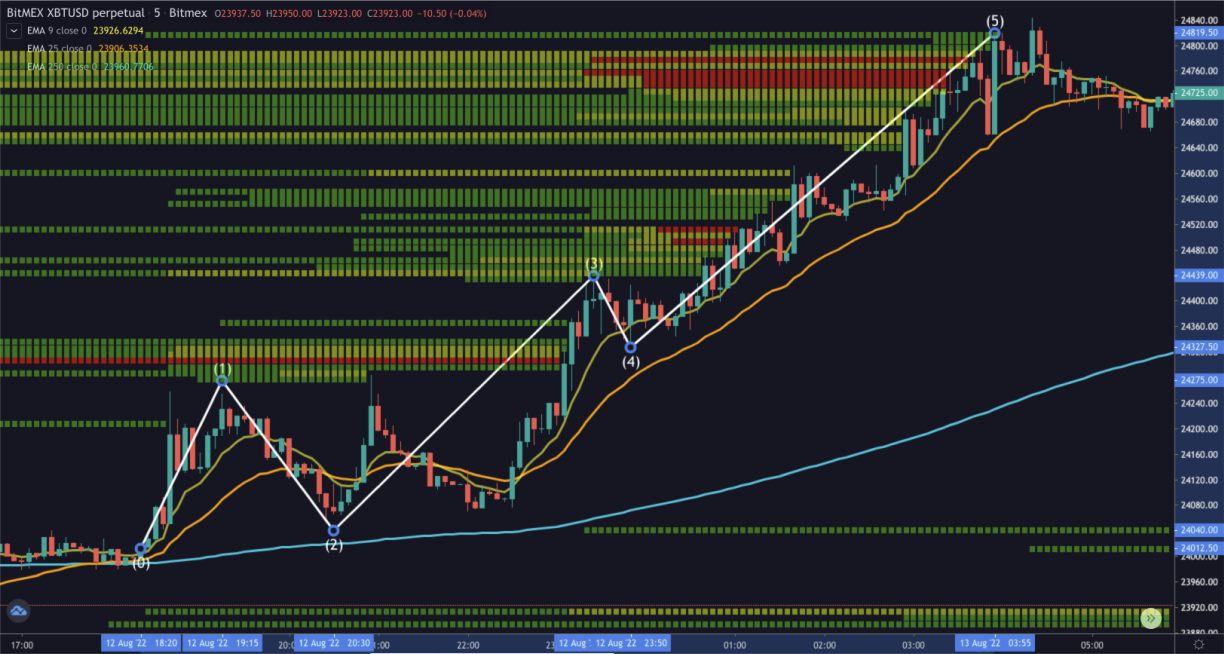 Liquidation Pools + EMA + Elliott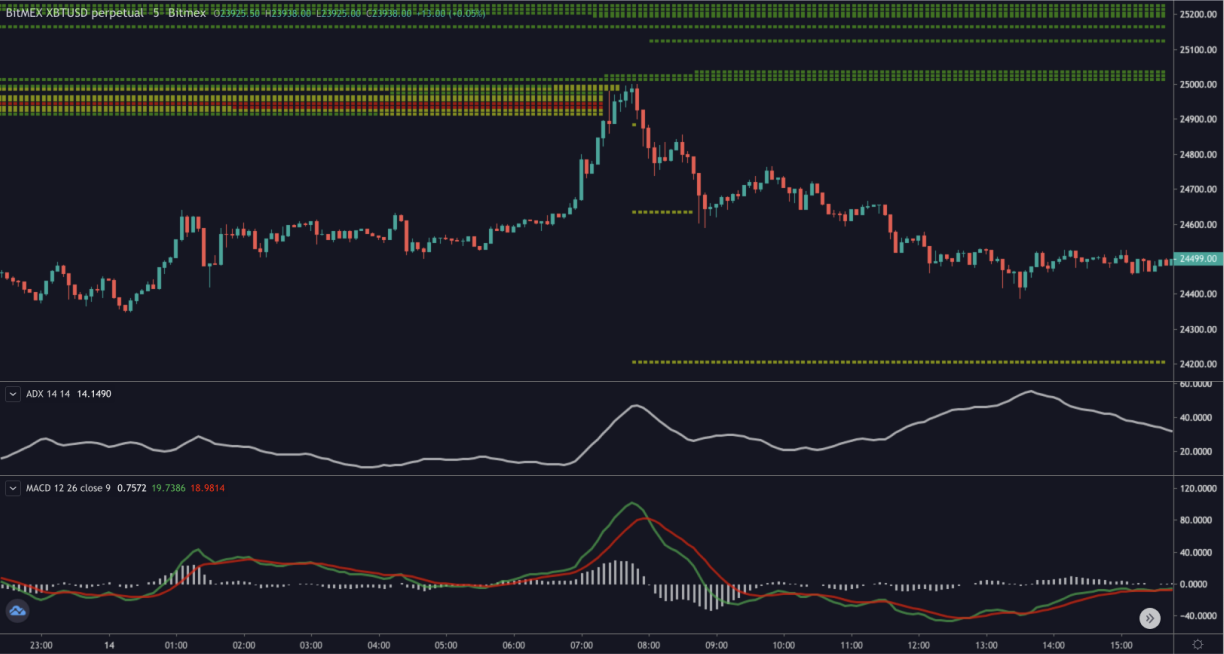 Liquidation Pools + ADX + MACD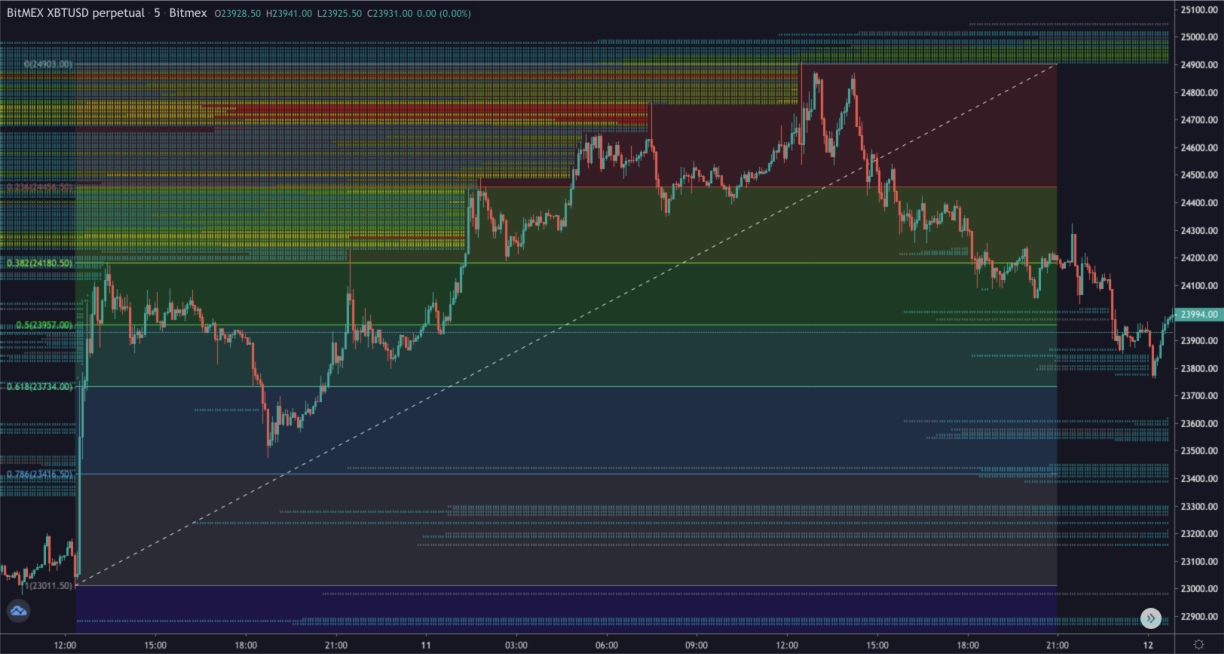 Liquidation Pools + Fibo
Analyse your strategy
Risk Calculator Free
Test your strategy numbers and understand the importance of a good Risk/Reward ratio and the impact of a recurring fee in your strategy results.
Try it now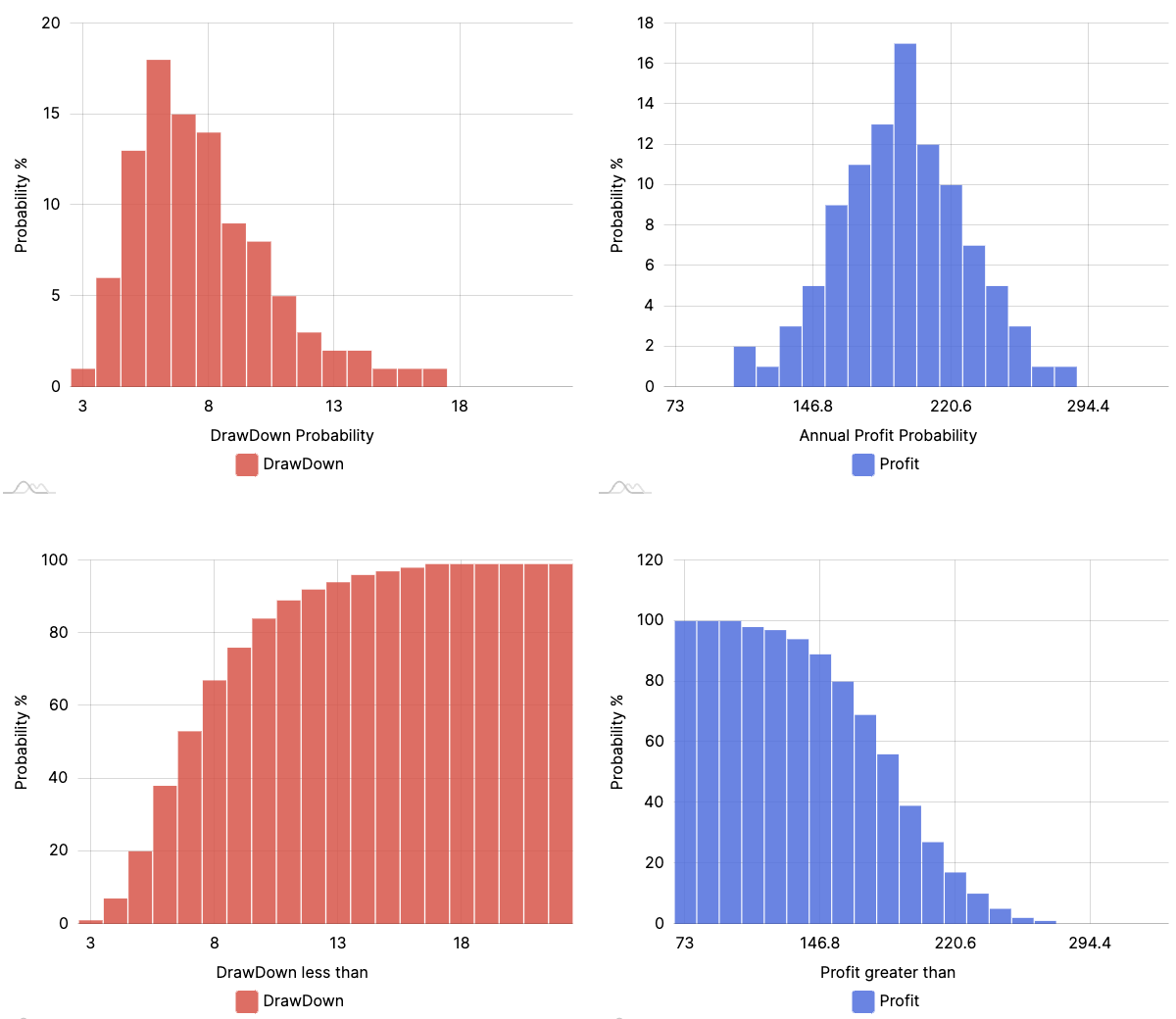 Browser extension
BitXpander Plugin Free
It automates a series of operations within BitMEX, through a simple and easy-to-use interface. It is installed in the browser and connects via API to the Exchange. Supports Testnet environment.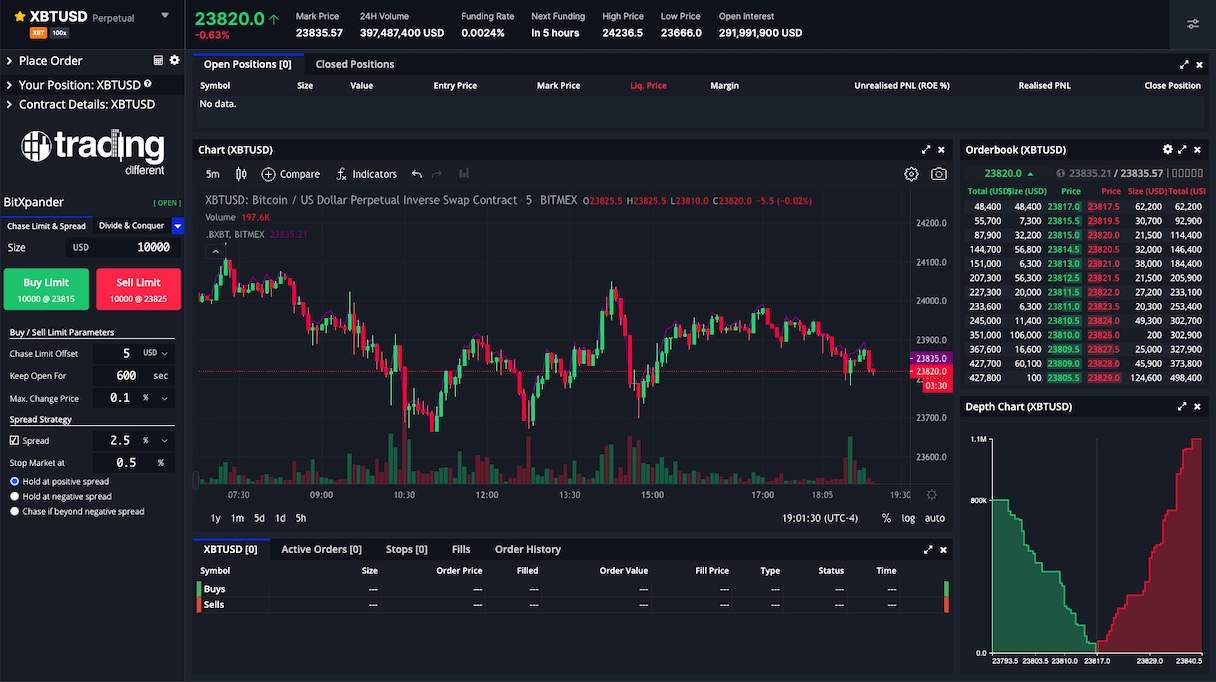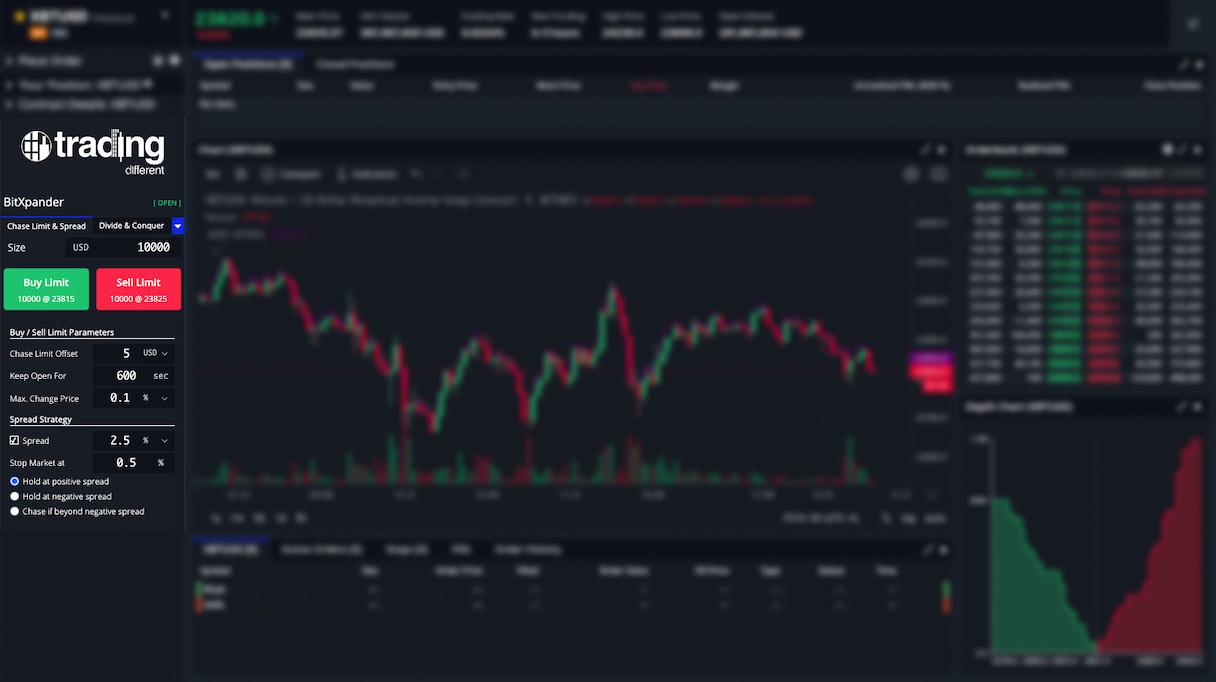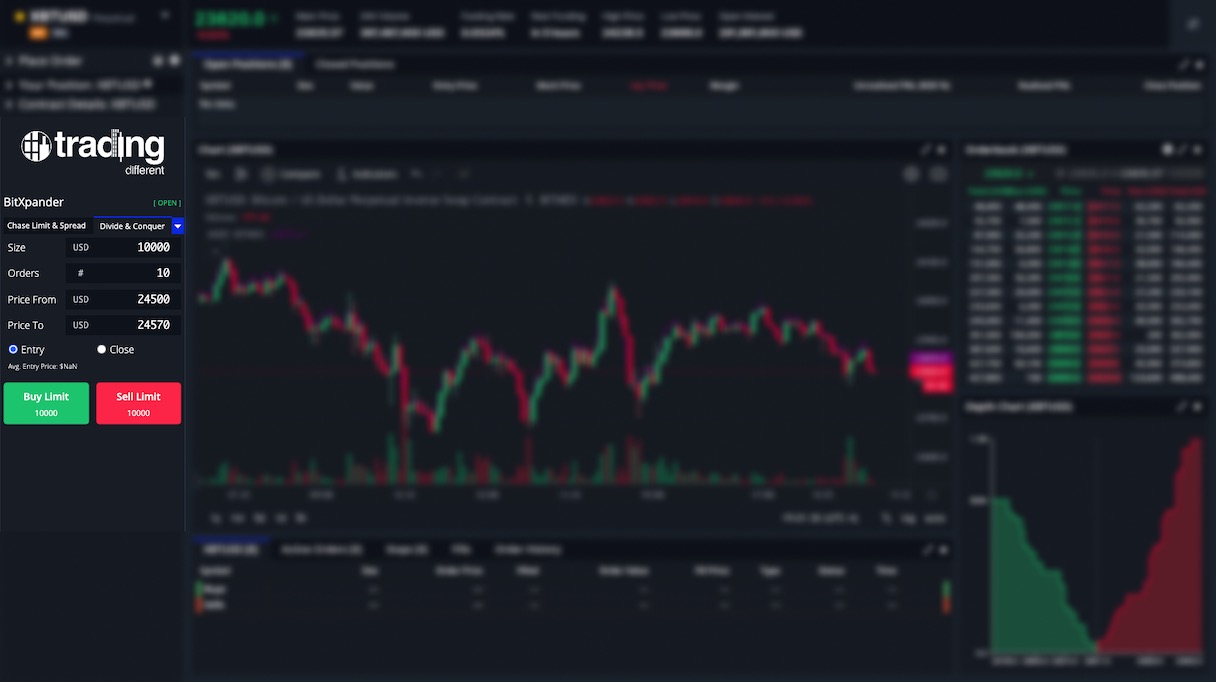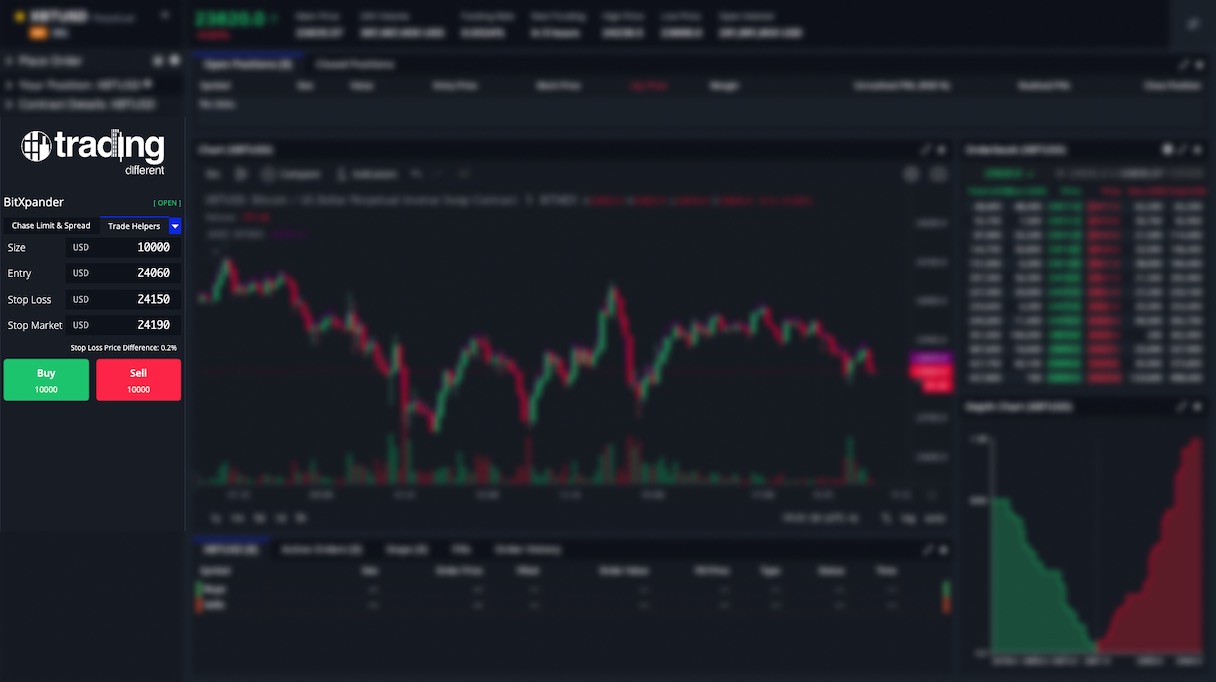 Autonomous Take Profit

Automatically creates a Take Profit Limit order as soon as an open position is detected. The closing price is defined by specifying a percentage relative to the entry position.

Stop Loss according to risk

Automatically creates a Stop Market order for the open position. The Stop price is defined by specifying a percentage relative to the entry position.

Orders grid

Create multiple entry or exit orders within a specified price range.

Floating orders

It allows you to enter or exit the market with a Buy/Sell Limit order that follows the market price until it is filled.

Efficient Stop Loss

Set a Stop Loss Limit, to take advantage of the Fee Rebate and avoid Slippage situations, automatically adding a security Stop Loss that execute at Market.

Automated spread

The volatility of the market allows to obtain profits between the purchase and sale differences that are detected in the Order Book. Set a determined Spread automatically.
Media partners
Trading Different in the media
Find out about the repercussions of our news in the media
What do our users say?
Testimonials
The Liquidation Pools are the best and have helped me trade with confidence. Thanks to them I can trade BTC and ETH being profitable while I dedicate myself to something I like.

I can no longer live without them, I recommend them 100%.

I always look forward to new updates. The truth is that BitXpander and the Liquidation Pools improved my trading by 1000%!

In my operations there is a before and after of the Settlement Pools. When I started trading I made the mistake of many: following a well-known YouTuber. This caused me to lose a lot of money. Then I got to know this wonderful tool and from there I started to be profitable. Knowing the liquidation points and trading those liquidations with the pools using the strategies, together with good risk management, is the best thing that could have happened to me.

I wish I had known about them sooner!

I am new to the community. I finished the basic course and made notes in a notebook as a guide and machete... now I'm starting to backtest and practice on the BitMEX testnet.

All the videos of the course are super interesting and didactic! course!
Benefits program
Exchange Affiliates
Did you know that the Exchanges could pay your subscription?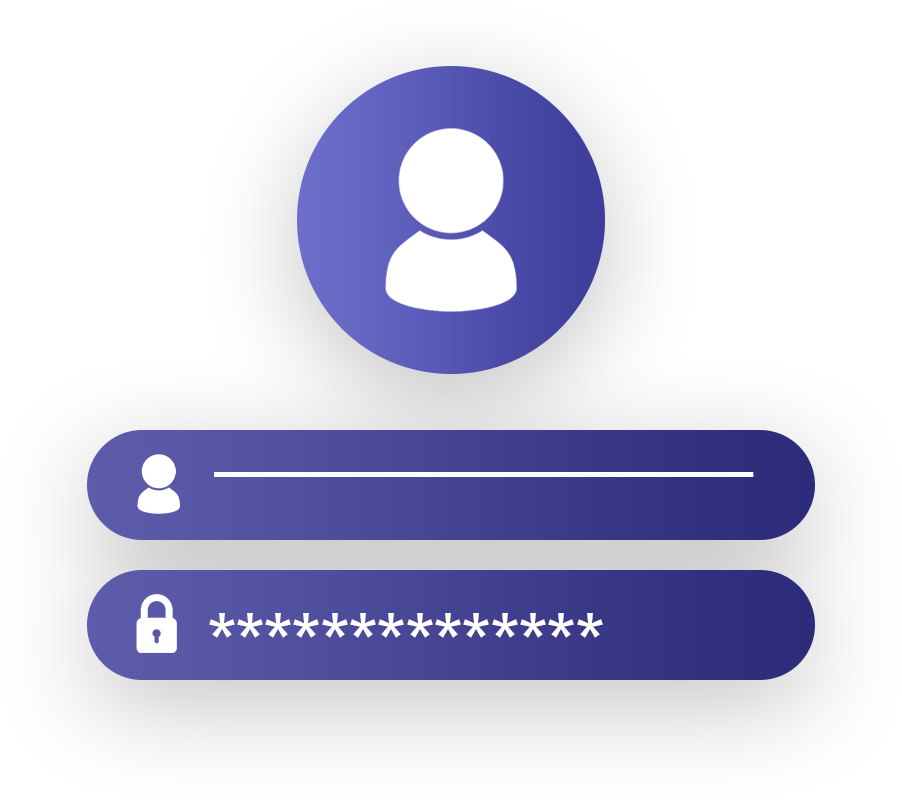 Sign up
Create your Trading Different account in less than a minute. You just need an email.
Connect your Exchange
Create an account on one of the Exchanges using our affiliate link and associate your Exchange ID in your Trading Different profile.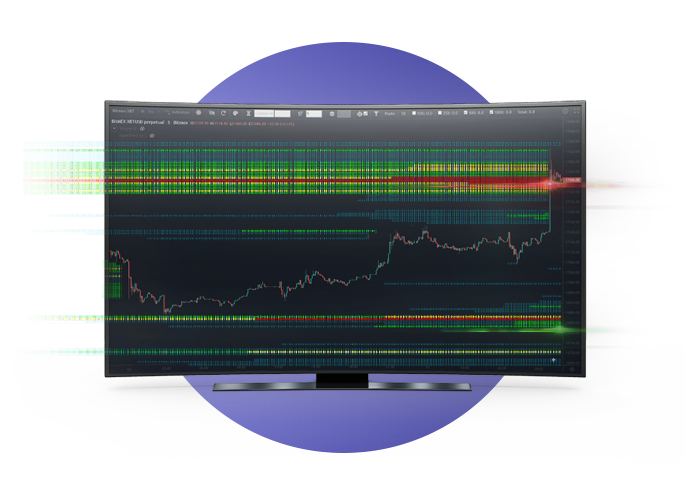 We give you back the commissions!
Get up to 50% of your trading commissions back as credit, so you can buy or extend your subscription to Trading Different.
Example:

If you make 20 trades per month of $5000 each, with a trading fee per trade (2 orders) of 0.05%, you pay the Exchange:

20 trades * 2 orders per trade * $5000 * 0.05% = $100

Over that value paid to the Exchange, they give us back up to 50% of those commissions and we decided to return them to you!. In the previous example, we would credit you $50.
Trading Different uses TradingView technology to display data on charts. TradingView is a charting platform for a global community of traders and investors, but it's especially valued by crypto enthusiasts: you can track detailed symbol charts, e.g. BTC/USD chart and ETH/USD chart to always stay on top of where the markets are moving and be prepared for a next trade.
Pricing
Our Plans
We have plans that adapt to the needs of each person.
Are you a trader? Are you a holder? Choose yours!
Holder

Pack

Tools focused for Bitcoin Holders.
What's included?
Liquidation Heatmap (Swing)

Liquidation Pools for BTC with 1D timeframe and 3x, 5x and 10x leverages. Supported exchanges: Binance

BTC Supplier Model

Total mining cost of 1 BTC with highlighted market stages and mining profit zones

Discord & Zooms

Access to our Discord server and Zooms with the team
Trader

Pack

All the necessary tools and indicators to start improving your trading strategies.
What's included?
Liquidation Heatmap (Scalping + Swing)

Liquidation Pools for BTC and main altcoins (ETH, BNB, ADA, DOT, AVAX, MATIC, XRP, TRX and DOGE) in different timeframes: 1m, 5m, 15m, 1h, 4h and 1D + Indicators (OI, Buy/Sell, Liquidations). Supported exchanges: Binance, BitMEX, Bybit and Deribit

Historical Chart

Backtest all the supported symbols in different timeframes: 5m, 15m, 1h and 4h. Turn your strategies into a quantitative system that respects clear mathematical premises, corroborating its effectiveness and ROI% with a complete backtest since 2019

High Frequency Chart

1 second BTC Chart with configurable High Frequency (HF) indicator

Volume Profile

Volume grouped by price levels

TrenDiff Indicator

Trade with our new trend indicator. Includes tutorial with Long and Short strategy

More Indicators

Buy/Sell Volume, Open Interest, realtime Liquidations and TradingView indicators

BitXpander

Plugin to expand BitMEX functions and trade spread strategy

Holder Pack

All the tools & indicators from the Holder Pack and access to our Discord server and Zooms with the team
Affiliate program
We have a collaboration plan for influencers and references of trading communities. They will be able to access all our tools and obtain exclusive benefits.
Request access to the Affiliate Program
Please fill in as much information as possible.
Whoops! Something went wrong.
We have received your message. We will contact you shortly.
We show you our statistics
We develop our own quantitative strategies using our indicators.
You can develop your own strategies too.
Average effectiveness

70%

Historial trades

2k+

Unique strategies

4

Tools and indicators

8
The numbers are

important
Our strategies are created using "only our indicators", demonstrating their effectiveness. They are analyzed with their backtest and corresponding metrics to be able to start working and operate with real capital. This type of data tells us about the robustness of each strategy and its risks, hence the importance of doing a backtest.
Get to know us
Trading Different Team
We have a professional team of engineers and developers who develop advanced and unique tools in the crypto market, as well as new trading strategies and systems.
Enrique Piatti

CTO & Senior Developer

Roberto De la Fuente

Senior Developer

Pablo González

Sales Marketing

Mónica Giugni

Customer Service

Emanuel Juarez

Video Editor

Damián Coria

Trader & Trainer

Javier Navarro

Server Admin
Contact us
Personalized attention to find out more about our developments
Main address

30 N Gould St

Sheridan, Wyoming 82801, USA

Email

soporte@tradingdifferent.com

Telegram
Whoops! Something went wrong.